At the end of February, I converted my commuter bike to a fixed-gear via a flip-flop hub as an experiment, but I just reverted back to a freewheel after almost 90 miles of riding. Here's what I learned:
The best parts about riding a fixie
You just keep pedaling. It makes riding a lot more engaging and you can't zone out (safely). It's the purest form of riding, man.
Pedaling backwards and actually going backwards was kind of fun, but I didn't achieve bike-polo competency nor did I do any sweet fixed-gear freestyle.
It's like learning to bike again. It really is fun and made my short commute a lot more exciting.
The worst parts about riding a fixie
Dealing with sudden change. My city is not bike-friendly, so I am often forced onto the sidewalk in busy parts. It is very natural to coast and/or to stand when rolling down and up a sidewalk ramp. This is a mistake on a fixie, as your pedals will keep going and you will emit some kind of embarrassing Wuh-woh-wuhh noise and flail as you try to stay on the bike. The same goes for bunny-hopping steel plates or buckets of KFC chicken that are thrown at you.
Leaning into curves. My commute has a short section of high speed curves. Leaning into them is a guaranteed death.
Weaving between obstacles (e.g., planters or bike lane hazards) requires you to be mindful of your pedals. It is very easy to forget that you can't stop pedaling and Oh, crap! as you almost clip a curb.
Trackstanding sucks. I have been trackstanding (balancing in place) a long time on trials bikes, commuters, BMX, etc. so I am used to being able to rock back-and-forth and ratchet freely. It's not fun at all on a fixie. Furthermore, you have to plan where you're going to stop in order to have your good foot forward. More often than not, I ended up in the pedestrian crosswalk at intersections.
Braking downhill and STILL pedaling. Similarly, riding downhill with your feet off the pedals because you're going too fast and cannot coast. Both scenarios are dumb.
Coasting on long rides. It's nice to get out of the saddle, but you have to wait until you're going slow enough that it's safe to do so and then keep pedaling.
Conclusion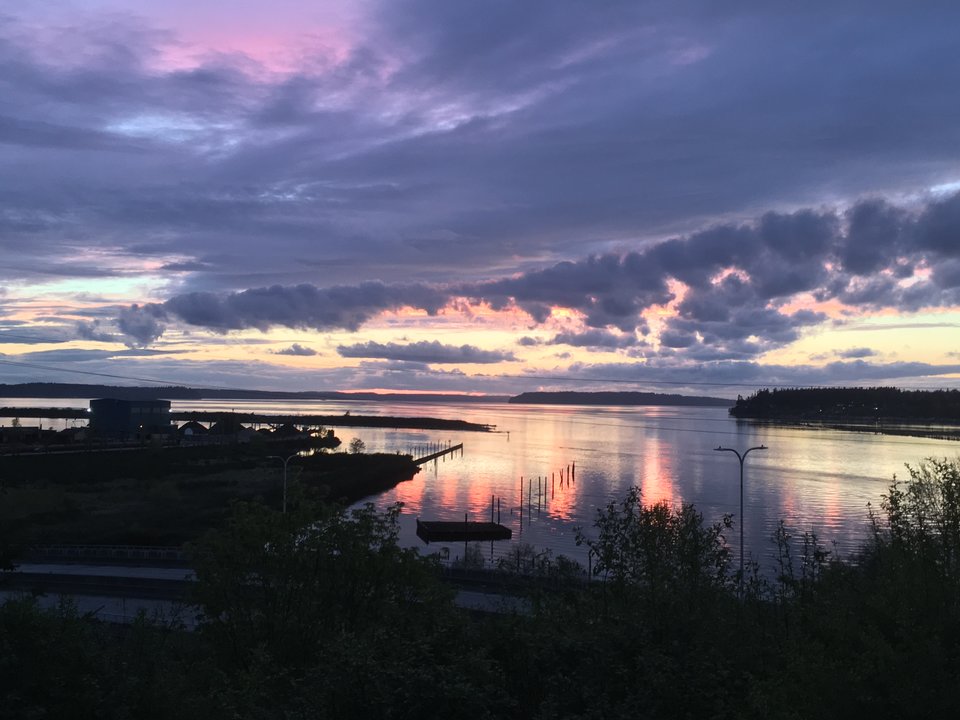 The first time I tried a fixie was my neighbor's bike in Portland; I couldn't make it out of the parking lot. When I was looking for a cheap commuter bike a few years ago, I wanted a flip-flop hub so I could entertain myself in the rainy winters since we lost our indoor bike park (RIP Burlington Bike Park). The last few months have made plain old commuting a lot more exciting, but my last longer ride convinced me to revert back to a freewheel for the final reason above: coasting. Whether it's resting, stretching, or managing human parts that don't like to be squished in a seat for long, coasting is great!
Would I ride a fixie again? Definitely! I will probably convert back to a fixed gear next winter, after I get my longer destination rides out of the way this summer and fall. Maybe I'll even learn how to play bike polo.
Appendix: Ride Data
Most of my rides are pretty short trips to the gym and mostly downhill (boring uphill home). My fiancée is just starting to ride road bikes, so in the following table, there is some variation on the days she joined me, although she has gotten much faster recently.
23 rides, 88.28 mi, 7 h 41 min in the saddle
0 crashes
3 near death experiences to be chronicled in an upcoming Netflix season
Strava
| Ride | Distance (mi) | Time (mm:ss) |
| --- | --- | --- |
| 2/27 | 3.03 | 11:38 |
| 2/27 | 3.24 | 17:34 |
| 2/27 | 1.86 | 08:47 |
| 2/28 | 3.19 | 16:25 |
| 2/28 | 3.10 | 23:28 |
| 3/13 | 4.48 | 20:35 |
| 3/13 | 5.23 | 43:50 |
| 3/15 | 6.24 | 36:27 |
| 3/18 | 3.10 | 14:07 |
| 3/18 | 3.05 | 20:23 |
| 3/20 | 3.13 | 13:21 |
| 3/20 | 3.50 | 23:40 |
| 3/22 | 3.12 | 12:57 |
| 3/22 | 3.08 | 22:47 |
| 4/12 | 3.25 | 11:51 |
| 4/12 | 3.19 | 16:53 |
| 4/15 | 3.18 | 11:36 |
| 4/15 | 3.18 | 21:00 |
| 4/17 | 3.14 | 10:36 |
| 4/17 | 3.14 | 16:07 |
| 4/19 | 3.12 | 11:32 |
| 4/19 | 3.07 | 18:05 |
| 4/19 | 13.66 | 57:22 |